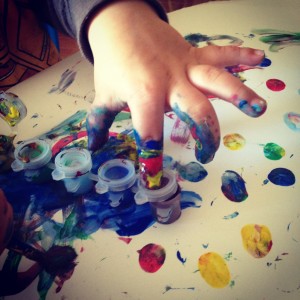 It's messy.
One by one he dips his chubby fingers into each color.
Red. Blue. Green. Yellow.
He smears the paint across the paper. A hurricane of color.
Within moments his fingers and hands become a rainbow of color.
It's on his arms and on his clothes. It's splattered on the table.
I watch in wonder as his little hands create a masterpiece.
It's messy memory making.
Those tiny hands. That inquisitive look. A few minutes of fun that cost a buck.
Some say I'm brave to face the mess.
I say the paint will wash away. The memories never will.
*Today I'm linking up with Lisa Jo for Five Minute Friday. You can join the fun and get a dose of encouragement here.