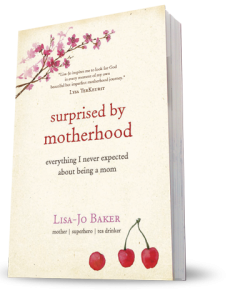 I stayed up way past my bed time to inhale every ounce of the encouragement she had poured onto the pages. There was a chance I'd regret the late night when I received my 6 a.m. wakeup call from my Little Man. I decided to take the chance.
I'm glad I did. Lisa-Jo Baker is my kind of writer. Honest.
Tears rolled down my face. A mascara stain now adorns the cover of my copy of Surprised By Motherhood: Everything I Never Expected About Being a Mom. 
Right there on page 131 Lisa-Jo summed it up. It's like she wrote the words just for me. The challenges of raising a very strong-willed two-year-old. I could have shouted a big AMEN. Sometimes a spanking just fuels the fire. A spanking does more harm than good.
Not everyone understands that, but mama's of strong-willed toddlers do.
They understand the frustration. The unmet expectations. The embarrassment. The battle. The little heart who one day (you pray) will be hard-headed and passionate for Jesus – not just wanting to stay outside and drinking your Dr Pepper.
Oh the glory of reading Lisa-Jo's words and realizing I wasn't the only one who had felt desperate, lost, and afraid of screwing up the Little Man in my care.
Grace oozed from the pages. A balm soothing my weary mama soul.
I thanked Jesus when I read these words.
"There's no rage like the exhausted rage of motherhood."
"How my parenting had mostly been a mixture of embarrassment and frustration."
If you're a mama or a soon-to-be mama, grab a copy of this book and dive in. Let the words bring some joy into your dirty diaper days. I promise you they will.
*Today I'm linking up with Lisa Jo for Five Minute Friday. You can join the fun and get a dose of encouragement here.
***The winner of the signed copy of "Surprised By Motherhood" is……