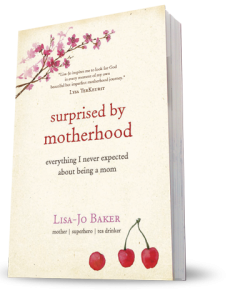 Today I'm celebrating the release of Lisa-Jo Baker's book  Surprised by Motherhood: Everything I Never Expected About Being A Mom.  I'll be giving away a copy of her book to one lucky blog reader. Just leave a comment below for your chance to win. Share how you've been surprised by motherhood. I will draw a winner on Friday, April 4, 2014. Here's how motherhood has surprised me! 
Jackson entered the world and decided to throw his mama a huge surprise party.
I was surprised at how quickly I connected to the baby boy who didn't grow in my womb. How my heart wanted to explode with love for him.
I was surprised when the nurse lifted him up and announced 8 pounds and 13 ounces of glory. Would his newborn clothes even fit?
I was drunk on new mother bliss those first two weeks.
Then I got the surprise of my life – colic.
Blood curtailing screams for hours on end. Motherhood got hard; fast.
Like Lisa-Jo says in her book, "One, motherhood is hard. Two, motherhood is glorious. Three, motherhood is hard."
I was surprised to find myself locked in the bathroom, crying hysterically, just a few weeks into my new gig.
I was surprised that such awful thoughts could swirl around my head at 3 a.m. Nobody can prepare you for the craziness that is sleep deprivation.
I've caught puke in my hands as we traveled 70 mph down the interstate.
Then there was the unexpected gift he handed me the other day, straight out of his diaper.
Surprises galore. Some simply wonderful, others completely frustrating.
I can't imagine my life without Jackson, but I don't desire to do this mother thing again.
That realization has shocked me to the core. After all,  motherhood was all I ever dreamed of.
Unlike Lisa Jo, who didn't want children – ever (and now has three),  I wanted kids. I thought motherhood was my ultimate goal.
Lisa-Jo writes, "Parenting is not for the faint of heart. And it's especially not for those type A personalities accustomed to having all their ducks in a row, all their check boxes checked, and their sofa cushions, cereal boxes, and entire lives neatly arranged."
Some of the surprises of motherhood have left this type A girl frazzled.
A year of colic, followed by a year of strep throat, have defined motherhood for me. The thought of doing it all over again leaves me utterly exhausted. I realize I could end up with a non-colicky baby, but do I dare risk it?
Then there's the guilt.
What's wrong with me that I don't want more kids?
I've compared myself to other adoptive families, which only leaves me defeated. I've tried really hard to want to do sleepless nights all over again, but it's just not happening.
And now we are in a new season where Jackson needs our undivided attention. We are working through speech delays and it's challenging for Jackson and for us.
God could have other plans, but right now my heart tells me that we will remain a family of three.
And after months of this inward battle, I vow to no longer feel guilty about my choice.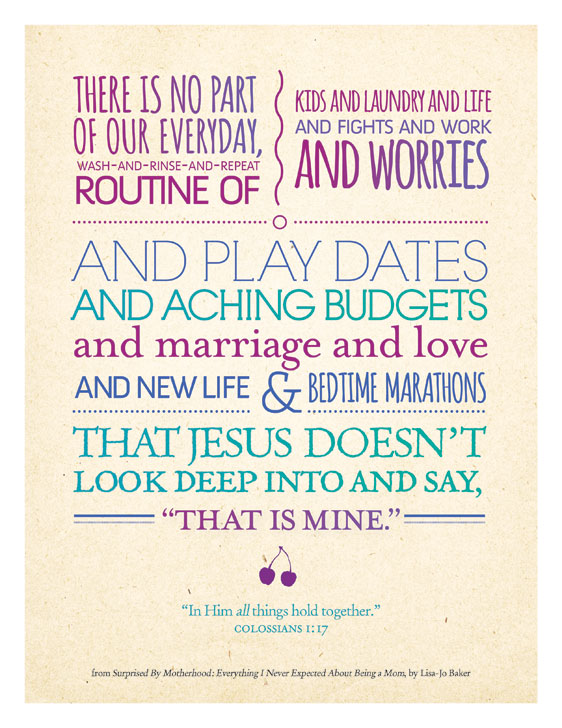 ****Today I'm linking up here for the Surprised by Motherhood launch party!