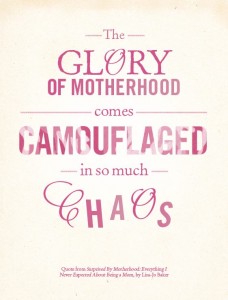 Motherhood is hard! Thankfully, there's people like Lisa-Jo who encourage desperate mamas before dirty diapers send them into a pit of despair. Her words can awaken even the most sleep-deprived soul.
On Tuesday, mamas everywhere will have a chance to get their hands on her book Surprised By Motherhood: Everything I Never Expected About Being A Mom.
I've had the privilege of reading the first three chapters. I'm itching for more. I'm patiently waiting for the UPS truck to deliver my copy of the book. It's good, ya'll!
And on Tuesday, I will be giving away a signed copy of the book to one of my blog readers. I'll be sharing a few of my own motherhood surprises and will ask you to do the same. You don't want to miss the fun!
But until then, why don't you hop on over to Lisa-Jo's book page and download the first three chapters of her book. They're free!
Then, if her words energize your weary mama heart, head on over to Amazon and order a book. You won't regret it!
*Today I,m linking up with Lisa Jo for Five Minute Friday. You can join the fun and get a dose of encouragement here.