The bookstore is busting with books about princesses and all things pink. When you're the mama of a boy these books just don't cut it. You need books about trucks and getting dirty. Thankfully, we've got a good collection of boy books started.
When I ask Jackson to get a book from his room, it's a guarantee that he will return with one of these books in his chubby little hands. They're our go-to. We read them over, and over, and over.
Horn went beep, engine purred.
Friendliest sound you ever heard.
Those are the first lines of one of our favorite books. I typed it from memory. I don't even have to look at the first page when we read the book. I'm also guilty of hiding these favorite books once in a while in an attempt to force Jackson to pick something new to read. We read different books, but none of them have won Jackson's heart the way these boy books have.
If you're the mama of a boy, I hope you'll consider adding these titles to your home library.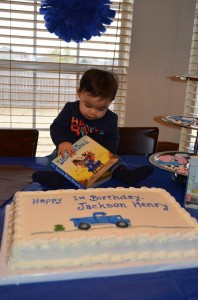 Little Blue Truck: A little blue farm truck and his animal friends help a grumpy dump truck after he gets stuck in the mud. The grumpy dump learns that you have to slow down and be polite. If you don't, you'll end up stuck without anyone willing to help you out of the mess. This book was the inspiration for Jackson's first birthday party.
Little Blue Truck Leads the Way: The little blue farm truck is far from the county. He finds himself in the middle of the big city. The cabs and other vehicles are in too big of a hurry and whiz by the Little Blue Truck. When a traffic jam keeps the mayor from getting to his important destination, Little Blue Truck comes to the rescue.
I am super excited to share with you that a new Little Blue Truck book will be released in September. Little Blue Truck's Christmas is already on my Amazon wish list. I have a feeling it will be another favorite in our house!
Smash! Mash! Crash! There Goes the Trash!: We are all about the garbage truck at our house. This is a fun books about the garbage truck and all the stinky items it picks up on it's route. Fun rhyming words and silly sayings.
I Stink!: Another book about a garbage truck. Learn the parts of a garbage truck, how it collects the trash, and takes it to the dump. Your little one can get a lesson in his ABC's as you read the list of items being thrown into the garbage truck – egg shells, nasty neck ties, and baked zitti with zucchini.
I'm Dirty!: We are a big fan of construction trucks in our house, too. This book is about the day in the life of a backhoe loader and all the dirty jobs he has to do.
Where Do Diggers Sleep At Night?: Before you tuck your son into bed, make sure all the trucks are tucked in, too. The firetruck in the firehouse. The tractor in the barn. It's a great bedtime story for any truck-lovin boy.
Goodnight, Goodnight Construction Site: End the long, hard day by saying goodnight to the construction crew. The dump truck, the cement mixer, and the excavator need some sleep so they can work hard again tomorrow.
Goodnight Baseball: Most of our collection involves trucks, but this book is just as much for Jackson as it is for my baseball loving husband. A little boy takes a trip to the ballpark and wishes the players, the fans, and the crowd goodnight after the big game.
What are some of your favorite children's books? Are there any boy books that I need to add to our library?