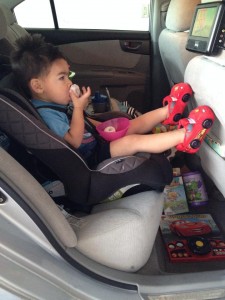 I look into the rearview mirror and joy greets me.
Powdered sugar donut crumbs lost in a bed head wilderness.
Traces of his sweet breakfast remain on his full, kissable lips.
Lightening McQueen keeps his feet warm and he lets out a roar.
That's what Henry Hugglemonster says, after all.
It's these little moments that bring the most joy.
There is greatness in the mundane, if only you take the time to look for it.
That's why I count the gifts.
A small reminder of the joy that surrounds me.
#274 Pina Colada Icee.
#275 Finger paint fingers.
#276 His bed head.
#277 Powder sugar donut face.
#278 First time wearing shorts this season.
**Today I am linking up with Lisa Jo for Five Minute Friday. You can join the fun and get a dose of encouragement here.