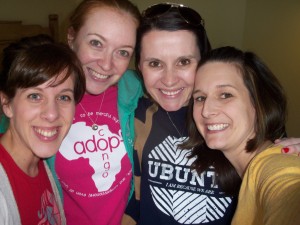 I recently returned from Created for Care. It's a retreat for adoptive mamas, held outside of Atlanta each year.  Last year my friend Kathleen and I went. I wasn't planning to go this year, but I changed my mind at the last minute.
I decided to tag along with my friend Candice, who is currently waiting on a referral from Congo. She had never been and didn't really want to fly by herself, so I booked a flight and prayed a spot would open up for me since there was a waiting list.
Thankfully a spot opened up and Candice survived the flight to Atlanta. In the days leading up to our trip, I asked God to meet me at Created for Care. I prayed He would teach me and fill me up spiritually.
I didn't go to the retreat as a waiting mama, or with plans to start the adoption process again. I went as the worn out mother of a two-year-old. A mama who has to get creative in order to spend time with the Lord. A mama who needs Jesus. I was excited to worship Jesus uninterrupted.
We read Matthew 11:28-30 from the Message during our first night of worship and I just loved promises tucked into this scripture.
Are you tired? Worn out? Burned out on religion? Come to me. Get away with me and you'll recover your life. I'll show you how to take a real rest. Walk with me and work with me – watch how I do it. Learn the unforced rhythms of grace. I won't lay anything heavy or ill-fitting on you. Keep company with me and you'll learn to live freely and lightly. 
I don't know about you, but I want to learn the unforced rhythms of grace. Doesn't that just sound amazing?
Candice and I roomed with two other adoptive mamas and they were just the sweetest. It's amazing how adoptive mamas just click. Our hearts beat to the same rhythm. We not only share a love for adoption and our children, but we are passionate about Jesus and truly want to seek His will for our lives.
We had a great time getting to know one another, discussing adoption, and encouraging each other in the hard stuff.
I watched a beautiful sunrise. I counted gifts.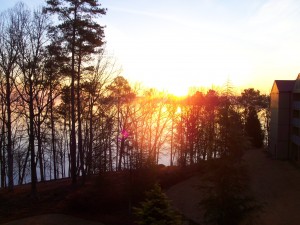 I prayed and God met me there.
He taught me a few things, too.
God meets us exactly where we need him the most. I was at an adoption conference, but He spoke to my heart about things that weren't adoption related. He spoke to my heart about my God-Sized dreams and His time table. He revealed areas of my life where I still doubt; areas I haven't fully surrendered to Him.
After I came home and poured over my notes, here's what I felt like God wanted me to take away from my weekend at Created for Care….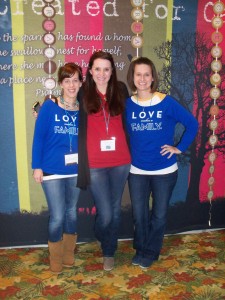 He's not finished with my story. He has a plan for me, and although I may not feel like I'm hearing Him clearly or it may not be happening in the time frame I would like, He has it figured out. I can't get stuck on one page. He has many more chapters to write.
I struggle with my platform, feeling like it's not big enough. Building an audience and promoting my book is hard work and I am often left feeling defeated. One of the speakers read Mark 5:18 and God showed me what the foundation of my platform is to be.
Go home to your family and tell them how much the Lord has done for you and how he has had mercy on you.
My platform begins with my family, especially Jackson. It begins with the people in my family who need to know Jesus. It's my job to "utter worthy words, not worthless words, and be His spokesman." (Jeremiah 15:19)
And just like Moses modeled to Joshua what it meant to have a relationship with the Lord (Exodus 33), I am to model the same thing to Jackson. Jackson is my Joshua.
I was also encouraged by another scripture shared from Zechariah 4. Verse 10 says, "God rejoices in small beginnings."
The small stuff matters.
A Bible story read before bed.
One book sold.
A blog post that encourages another blogger to keep writing.
The choice to love even when it's hard.
A prayer uttered.
The small stuff leads to greatness.
Deposits that make a difference.
One person giving their life to Christ – that's the big stuff.