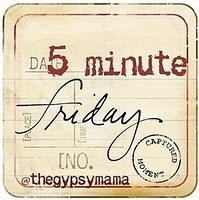 Most Fridays I end up distracted by a toddler and it takes longer than five minutes to write my Five Minute Friday post. But today I really only have five minutes.
I've got to get to the airport. I'll fly across several states and meet up with 450 adoptive mamas for the Created for Care Retreat.
I'm thankful my husband is willing to be on Daddy Duty this weekend.
I'm thankful that adoption is part of our story.
I'm praying that Jesus meets me in the south this weekend and fills me up to overflowing.
That I will be willing to step out of my comfort zone; to take the steps I need to promote my book and dive deeper into my God-Sized dream.
I'm trusting Him.
The one who says, "he will finish the work he started in me. He will will carry it on to completion until the day of Christ Jesus."
**Today I am linking up with Lisa Jo for Five Minute Friday. You can join the fun and get a dose of encouragement here.