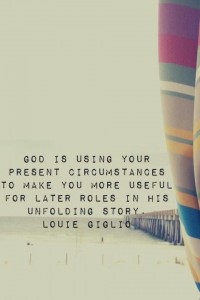 I took a small step of faith yesterday; hoping to move into the next chapter of this God-sized dream of mine.
I dreamed of writing a book and I did, but something deep inside tells me there is more to the dream.
I want to continue sharing our story. A story bursting of God's glory. Not just through the written word, but through spoken words.
But I've been afraid to ask. Why would anyone want to hear from me?
I'm just a mom in Oklahoma changing diapers and spinning words onto a page. Dreaming big dreams.
But the desire hasn't gone away. There's a small tug deep inside and it's telling me there is more to be unveiled.
My God-Sized dream isn't complete.
I took a small step.
I accepted an offer to speak.
I mailed letters to potential groups.
Not because I want to be the next Beth Moore, but because I believe in this story written for me.
I believe even more  in the almighty God who penned it.
**Today I am linking up with Lisa Jo for Five Minute Friday. You can join the fun and get a dose of encouragement here.