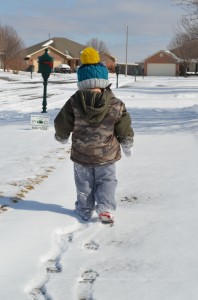 I didn't see the gifts hidden amidst the snow when it greeted me Thursday morning.
I had a toddler who was wide awake at 5 a.m. and a notice that his school would be closed because of the weather.
So I pouted.
We had been cooped up inside the majority of the week.
Freezing temperatures. Snow. Ice. Nasty wind chills.
I had been looking forward to Thursday.
I always look forward to Thursdays and Fridays.
Jackson has school (which he loves).
I get two days  to write and be someone other than a mother.
So I pouted.
Then the sun said good morning and everything outside glistened.
I found Jackson standing on top of his table looking out the window for the best view of the snow.
It was in the single digits with a negative wind chill.
"Buddy, we can go out and play this afternoon," I said.
I took him off the table. The last thing I needed was an ER trip in these conditions.
"Come on, let's bring the snow inside."
I went outside, filled a bowl with white powder, and let Jackson dig in from the warmth of our kitchen.
There were gifts to be unwrapped.
#123 Snow puddles covered the kitchen floor.
Jackson's pajamas were wet, but he was happy.
Later that afternoon, after a long nap, we bundled up and headed outside.
More gifts awaited me.
#124 The sound of the snow beneath his toddler Nikes.
Crunch. Crunch. Crunch.
#125 Small footprints in the snow.
His smile was as radiant as the sun reflecting off the white.
He could have played out there all day.
We explored.
#126 An icicle stuck to his mitten hands.
"Buddy, let's go inside. It's getting too cold."
He ran through the snow in the opposite direction.
I picked him up and carried his snow covered little self inside.
We peeled off the wet clothes.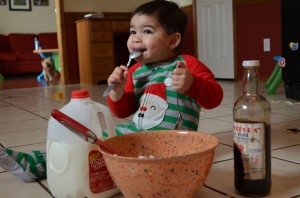 "I have one more surprise," I said.
I got the bowl from the kitchen, stepped outside, and filled it up again.
Jackson followed me to the kitchen.
He sat in the floor ready to play some more.
I grabbed the milk, the sugar, and the vanilla.
He helped me poured the ingredients over the snow and we stirred.
Then we enjoyed another gift.
#127 Snow ice cream.
**Today I am linking up with Lisa Jo for Five Minute Friday. You can join the fun and get a dose of encouragement here.