For five years I've been in overdrive.
Infertility.
Adoption fundraising.
Adoption paperwork.
Becoming a mom.
Adjusting to motherhood.
A colicky baby.
Fighting for my marriage.
Making it through the first, very difficult year, of motherhood.
Spending two years writing a book.
Watching my God-Sized dream become reality.
Whew! 
It makes me tired just typing it.
So here we are, 27 days into the new year, and I have been wandering around, trying to figure out what my purpose is for 2014.
What now God?
My overachieving, Type A personality, doesn't handle down time very well. I get a thrill out of marking items off my to-do list.
Not having a plan. Not knowing what's next, um, that tends to give me a slight panic attack.
There are things I want to do. Promote my book.  Start speaking.
I even have a few ebook ideas swirling around in my head.
But the more I prayed and begged God to show me His plans for the year, the more I didn't like His answer.
Rest.
Take a Break.
Realize that being  a mom is enough.
Write because you love it, not to build a platform.
I knew He was right.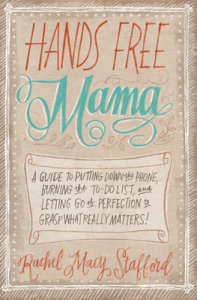 I started reading Hands Free Mama, and I knew it was time to make some changes.
Rachel writes, "What if one day you realized that the best moments in life come in the mundane, everyday moments? But you were only fully present on special occasions?"
I struggle to balance this mother/ writer gig.
I can't not write.
But being a mother is my first priority.
But I  want my words to matter.
I want my blog to be a success, but not at the sake of my son.
Last Sunday during church, the Holy Spirit moved.
"Go against the norm. So what if everyone else is consumed with updating social media and building a platform. Stop being obsessed. Write because it's what you were made to do. If your words encourage one person, than you have succeeded."
So I'm finally embracing what God's asking me to do.
This year I will rest.
I will enjoy the miracles in the mundane.
I will write down one thousand gifts.
I will set aside the dishes and the laundry and bake the cake I'm craving.
I will turn up the worship music and dance in the kitchen with my son.
I will lick the spatula covered in gooey chocolate goodness.
I will write, but only when the words are fighting to break free.
I will  be a mother. The best one I can be.
Because I don't want to look back and find that I've traded my relationship with my son for a platform.