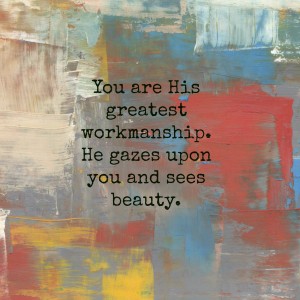 As I drove home the other night, I witnessed God's glory.
Hanging in a sea of black velvet, I caught a glimpse of the moon.
The most amazing moon I've witnessed in 31 years of life.
Beautiful didn't do it justice. It would have been an understatement.
It was a fiery globe. A bursting ember of orange and red.
I chased the moon and it teased me. Hiding behind houses and trees.
I just wanted to catch another glimpse.
I wanted to take a photo. To capture the beauty.
The impact the moon had on me the other night; all it's beauty, all it's glory;  that's how God feels about you.
In His eyes, beautiful is an understatement.
You are "fearfully and wonderfully made."
You are chosen.
You are loved.
You mean more than the moon and the stars that hang from that black velvet expanse.
I can picture you now. Reading these words and shaking your head.
You don't believe it.
You've messed up too many times.
How can God think you're beautiful?
Has He seen the number on the scale?
Has He seen the way you loose your patience with your kids?
He has. He's seen it all. The good. The bad. The ugly.
But  you're still beautiful to Him.
Why?
Because He created you, sweet one!
Just like He spoke the heavens into being and splattered stars across the sky.
He created you in His image. And He is beautiful.
You are His greatest workmanship.
He gazes upon you and sees beauty.
(even when you have spit up on your shirt and unbrushed teeth)
Today, know you're beautiful just as you are!
This post was written as a response to Holley Gerth's Coffee for your Heart link up prompt: For more encouragement click here!