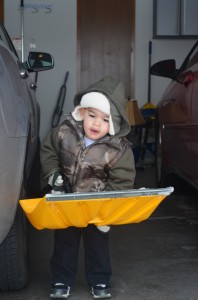 I peeked outside around 2 a.m. and saw that the ground was covered in white. I was giddy. Like a child. I couldn't wait for day to break, to bundle up, and take Jackson outside to experience the snow.
We layered our clothes, put on our silly winter hats, and headed out the door.
And he was off. Not to trample through the white powder, but to do a little shoveling. He's all boy!
When I finally pried his fingers from the shovel and he left the warmth of the garage he wasn't exactly sure what to think of the snow. Or the wind. Or the freezing temps.
I snapped pictures as fast as I could.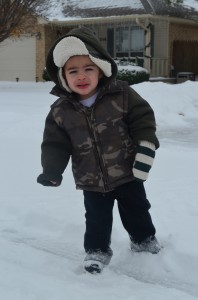 He looked at me like I was crazy.
Then he high-tailed it back to the garage.
We took off the layers we had just put on and enjoyed the snow from the warmth of our living room.
We cuddled up together and watched a Christmas movie. We baked salt dough ornaments for him to paint this weekend. Then we both took a long, long, nap. (did I mention we haven't had a full nights sleep in two weeks?)
It was a wonderful snow day. No, Jackson didn't play in the snow and love it the way I hoped he would, but I got cute pictures and we made memories. I'm learning that I have to let go of my expectations and just enjoy how things unfold – especially with an independent, strong-willed toddler.
Letting go is hard for me, but we're all happier when I do.