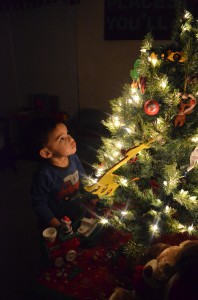 The tree lights shimmered. Their reflection bounced off the hard-wood floor. Outside the hot chocolate sky kissed the marshmallow ground.
The snow reflects His creativity. Each individual snow flake drifting to the ground, disappearing into a vast blanket of white.
The lights a reminder that He is hope shining in a dark world. A light that can never be dulled.
This reflects Advent.
The little boy, his face beaming at his first glimpse of snow. I look at him and can't help but think of the true meaning of this season.
He is our Christmas miracle.
Jesus is the worlds.
Advent swirls around me.
Like Mary, "I treasure all these things and ponder them in my heart." (Luke 2:19)
The lights.
The snow.
The peace.
The warmth.
The joy.
The baby boy.
The miracle.
Jesus.
***Today I'm linking up with Lisa Jo for Five Minute Friday. You can join all the fun here.