On Sunday I said yes to God. Sitting in church, I finally surrendered. I had been resisting for quite some time.
The preacher spoke words that penetrated my heart. He said, "Your adoption by God is a calling on your life. It's more than a title. Our life is to make an impact on the world around us."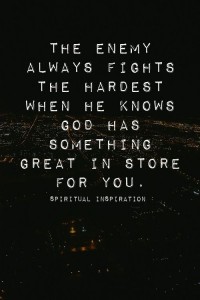 He's been nudging me, tugging at my heart, and I have ignored Him. I've come up with excuses for why I can't do what He's asking me. I've been selfish. I dug my heels in deep and wouldn't budge.
Then He broke me. I couldn't say no any longer. I have a responsibility.
Although I can't share with you what God's up to just yet, know that it's good. He has a plan and I am finally ready to follow His lead. That doesn't mean I don't have questions or uncertainties. I keep asking if He's sure about this. I doubt my ability.
In Jesus Calling I read, "When you don't know what to do, wait while I open the way before you. Trust that I know what I'm doing, and be ready to follow my lead."
The moment I said yes, Satan began to attack. I started making excuses to why I couldn't do what God was asking me to do. It finally dawned on me that Satan was up to his sneaky schemes. From this point on, he will do anything to keep me from fulfilling the plan God has.
The Bible says, "the devil prowls around like a roaring lion looking for someone to devour. (1 Peter 5:8)
When you say yes to God, when you choose to follow Him, the devil WILL strike. It's just going to happen. It's spiritual warfare and it's real!
Thankfully we don't have to fight the battle alone.
God says, "I am with you and will watch over you wherever you go…I will not leave you until I have done what I have promised you." (Genesis 28:15)
Are you holding tight to God, waiting on what He's promised you? Is Satan trying all he can to get you to let go of God's grasp? Hold on tight. Remember that God is bigger, God is stronger, God is faithful.
***I can't wait to share the details of what God's up to! Soon, very soon!