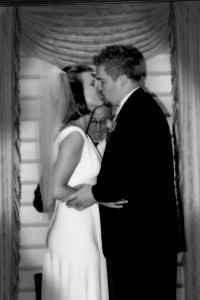 Five years ago, I stood in my wedding dress and held the door open for Barry Switzer. I cried when I saw my not-so-pretty wedding cake. My girls and I sang a silly song: "We're going to the wedding, the wedding, the wedding."
My wedding. Five years ago. It's by the grace of God that John and I are still together. I'm not exactly sure how we survived infertility, the emotional roller coaster that is adoption, the colic-induced screams, or the financial stress that we've encountered these past five years.
But we did. It took counseling, praying, staying when we wanted to walk away. It took choosing to be together, and there were times we didn't even like each other.
But today, as we celebrate five years, I like my husband. I love my husband. There's nobody else I would have wanted to share this crazy ride with.
He's my best friend. The best daddy to our son. I've learned that together we really can make it through anything!
***Today I'm join Lisa Jo for Five Minute Friday! You can join all the fun here.