When was the last time you were just in awe of God's love for you? When was the last time it dawned on you just how much He cares, not just about the big, but the small details of your life?
Yesterday was the day for me. As I drove to pick Jackson up from his first day of pre-school, I was overwhelmed at how God had been faithful to answer two prayers, which to me seemed very small. I wondered if I should have even bothered God with the requests.
I never hesitate to pray about the big things – restoring marriages, healing those with cancer, the salvation of someone I love. But yesterday I prayed God would let me get just a few good photos of Jackson on his first day of school and that he would have a wonderful day. I prayed hard about those things.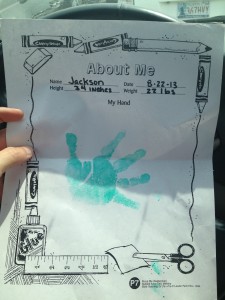 When I walked in to get Jackson he was happily pushing a pink stroller. He saw me and smiled. I picked him up and choked back tears as his teachers told me how well he had done. He had only cried when the he saw the other kids crying. He had eaten his lunch and napped.  He had also made me a special piece of art – the first of many I am sure.
His day had gone better than I could have hoped for. And, he let me hand him back to his teacher to take a photo. God answered.
It's when God answers those simple prayers that I am reminded how great His love for me is. He wants us to go to Him for all things – not just what we deem as big and important.
Luke 12:7 says, "Indeed, the very hairs of your head are all numbered. Don't be afraid; you are worth more than many sparrows."
So go ahead, pray about that thing you've been holding back from God. It's not too small. He cares.
***Today I'm linking up for Five Minute Friday. You can join all the fun here.