Yesterday we took attempted to take Jackson to a movie. When I shared my idea, John rolled his eyes. He tried to change my mind, but I was determined to give it a shot. I just knew Jackson would be fascinated by the planes zooming on the big screen in the new Disney movie.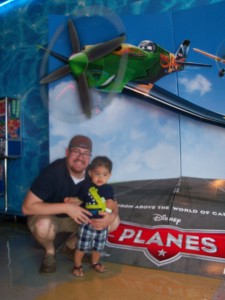 Twenty minutes and some popcorn later, Jackson just wanted to zoom up and down the aisles of the theater. He is, after-all, a very active 20-month-old. (Had we not had to sit through SO many previews, we might have made it thirty minutes into the movie. Just saying…)
"Don't say it," I said as we left the theater.
"I'm not saying a word," John said.
The manager was super nice and gave us a rain check on the tickets we purchased. Looks like John and I will get a date night in the near future.
We tend to get ahead of ourselves. There are so many things we want to experience with Jackson, so many memories we want to make. We forget he's just a toddler and we don't have to cram them all into his first two years. 🙂
We just want his childhood to be happy and fun and full of memories. We want to take him to Disney World and see joy spread across his face when he meets Jake and Sophia.
We want good things for him – things that go beyond the Happiest Place on Earth. We want him to know how much God loves him, to become a man after God's heart, and to love the Lord with all his heart, soul, and strength.
Last night as I thought about our movie experience, God brought something to my mind. As Jackson's mom, I want to give him the world. I want to give him good things. As my Heavenly Father, God wants to give me good things, too. But just like Jackson isn't always ready for the good things I want to give him, I'm not always ready for the good things God has for me.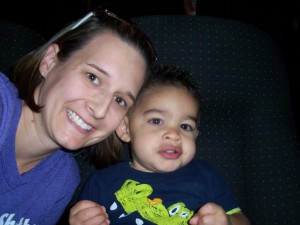 I have to be ready to receive the good things, or I won't appreciate them the way God intends for me to.
Jeremiah 29:11 says, "11 For I know the plans I have for you," declares the Lord, "plans to prosper you and not to harm you, plans to give you hope and a future."
God's good things may not include trips to Disney World, but what they include are much better than Mickey Mouse and Magic Kingdom. And His timing is always perfect.
God wants us to be filled with love, joy, peace, forbearance, kindness, goodness, faithfulness, gentleness and self-control. (Galatians 5:22-23)
And most of all He promises to work all things together for good for those who love God and have been called according to his purpose. (Romans 8:28)
Next weekend we will continue to make memories with Jackson, but we'll do things he can enjoy.There will be a petting zoo and kiddie rides and plenty of space for Jackson to zoom to his hearts content!
What are some of the good gifts you hope to give your children? What are a few of the good gifts God has given you? I would love for you to share in the comments below.