This morning I sat under the shade of the tree in our backyard and watched Jackson play in his sandbox. The sand slid through his fingers. He threw it and the wind carried it before falling into the plush green grass.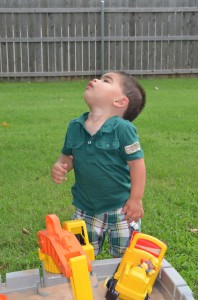 There are so many things I want to remember about Jackson during this stage. He hears a plane, looks up at the sky, and points when he spots it. He looses his balance as he concentrates on the small dot in the vast blue sky.
He loves trucks. They are scattered across my living room floor. I wonder why we waste our time buying him toys that don't have wheels or sirens. We watch the garbage truck out his bedroom window. When he hears the fire truck pull in to the station behind our house, he hurries to the back door to wave. One day I held him up so that he could see better and the firemen waved to him. I'm not sure who was more excited, me or Jackson.
For so long he was too busy to – too boy – to sit still and listen to a story. Now he goes to his bookshelf, pulls down a book, and crawls into my lap. We read and repeat this a dozen times a day, with the same few books – all about trucks might I add.
He loves to be outside. He'd stay out 24/7 if I let him. Last night he stood at the backdoor and cried when I told him he couldn't go out. I promised we'd play after breakfast this morning.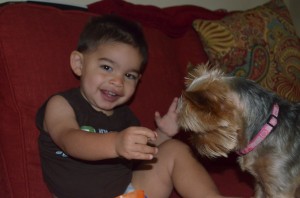 He climbs everything. I turned around for two seconds and he'd used the step stool to climb onto my bed. He steals my Sonic cups and claims them as his own. He dumps the dog food bowl and little pieces of kibble litter the kitchen floor. He takes a piece and toddles into the living room to feed it to Story.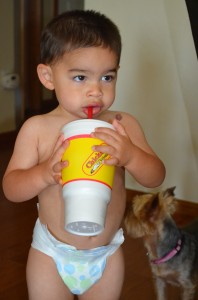 As I watch him play with a leaf, I tear up. I've never loved like this. This Little Man who calls me Mama, who leans down and lays his head on me and pats my back with his chubby little hands several times a day.
He's now standing in a diaper on top of a box on the back porch. He's grinning from ear to ear. And he steps back, looses his balance and bumps his head on the concrete. I jump up, he whimpers, and I kiss him. He pushes me away. He's spotted a stick. He's off on an adventure in the flowerbed.
This is the life of a mom with a boy and I cherish every dirty, ornery minute.