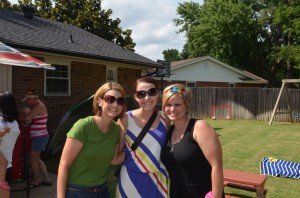 We laughed over peanut butter hamburgers and Thanksgiving fries, slapped at mosquitos, and shared our stories. Stories that still leave us speechless. Stories that aren't finished yet.
We cried tears, humbled that God had allowed us to be a part of His eternal plan. To become mothers through adoption. Each story unique, but each one a story of obedience, faith, and having to get over what people thought of the journey we were on.
Kelly Jo went to Africa to fight for her daughter. I met our birthmother at a homeless shelter. Candice is currently in the hard place – waiting. Waiting for the day she will see her daughters face and board a plane to Congo. (Read more about her story here.)
But each step was worth it. The waiting, the unknowns, the moment our child was (will be) placed in our arms. When He writes your story, it turns out better than anything you could have dreamed. When you're obedient to His call, you'll experience things that will leave you questioning if you really deserve to be part of such a story.
Will you let Him write your story? If you say yes, you better hold on. He will take you on the ride of a lifetime.
****Today I'm linking up for Five Minute Friday! Join us here.