The present is poopy diapers, sticky hands, and little fingers tapping lightly on my back.
It's stepping on Little People and tripping over trucks that are scattered across the living room floor. It's trying to fold laundry with a toddler who's determined to unfold each piece.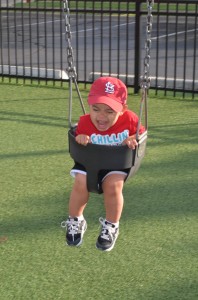 It's 18-month doctor appointments and wondering where the time has gone.
It's realizing that although I don't get to open my Bible and soak in God's word as much as I'd like or pray without interruptions, I'm seeing His wonder each day in the face of a brown eyed boy who has forever changed me.
Brennan Manning, in his book The Ragamuffin Gospel says, "God intended for us to discover His loving presence in the world around us."
Have you looked around today and seen a glimpse of God? His wonder is in the small details of our lives but we're often too busy to see them.
It's the sticky hands.
It's the giggles.
It's the cuddles on the couch watching Mickey Mouse.
Look around today! Soak in the wonder. Be present.
****Today I'm joining in on the fun over at Lisa Jo's blog for Five Minute Friday. You can join us here.