His face was red. His skin sticky with sweat. He puckered his lips and sucked water up through the straw.
He had just conquered the playground. He'd climbed, determined to make it to the top, crossed the bouncy bridge and slid down the slide. He grinned so wide you could see his eight little teeth.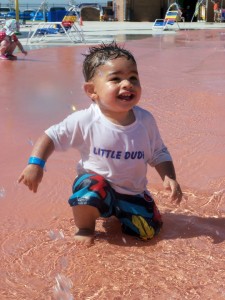 I swelled with pride as I watched my little monkey accomplish a new first. Later that afternoon I watched as pure joy spread across my son's face as he splashed in puddles and stuck his face directly into the fountains exploding towards the sky.
Droplets of water dripped from his lush lashes. He was soaked and it was bliss! Not just for him, but for his mommy, too.
I couldn't imagine being anywhere else.
It's taken more than a year for me to get to this point – complete contentment just being Jackson's mom. I've struggled a lot thinking I should be doing more. That motherhood wasn't enough.
But somewhere around April 30, 2013, my perspective changed. It was Jackson's Gotcha Day and I vowed to give my Little Man my undivided attention. I would ignore the dishes in the sink, the laundry piled on the couch, and would put aside platform building and blogging and all the things I felt like I needed to do in preparation for my book.
I would focus on one thing. Jackson.
It was the best day! Why hadn't I spent more days like this? Sitting in the floor playing with trucks that make a ton of racket. Letting Jackson drink sticky grape Kool Aide and eat chewy chocolate chip cookies.
I want more of those days. That's why the blog has been quite. I finished writing my book and instead of feeling like I need to build a platform and promote the heck out of it, I feel like I can just rest. It's a wonderful feeling.  I've accomplished what God wanted me to do. I wrote our story and I will trust Him with the rest. By July 1st it will all be in the publishers hands.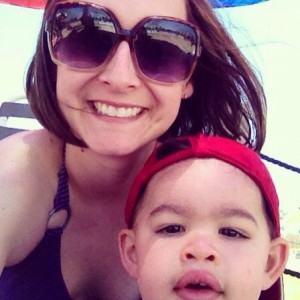 So instead of blogging three days a week, I'm splashing in the kiddy pool, having picnics, and sliding down slides. I'm soaking in these precious moments that I can never get back. I'm trying to be fully present for Jackson so he has memories of summer days with his mommy. And I'm taking a ton of photos, too. (John may or may not be too excited about the cost of printing them 🙂 )
How are you spending your summer days? What's your favorite summer memory?