As September begins to fade away, the aroma of Fall teases my senses. Fall is my absolute favorite time of the year. So many memories attached to the crisp, colorful, months.
Tossing a football with an old boyfriend.
An OU/Texas rivalry.
My wedding day.
Handing out food boxes to the near homeless in my community.
Pumpkins and Thanksgiving and fall scented candles.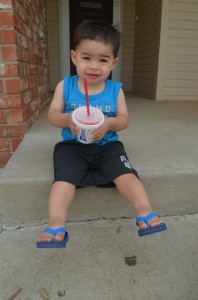 By the time August rolls around, I'll be sick of the scorching Oklahoma heat. I will be begging for my favorite season to make it's appearance – the red, the gold, the brown. But for now, I'm soaking up these summer days and making memories with a silly, Little Man.
Sonic slushes.
Splashing.
Happy Meals.
Making a wish on Wish Flowers.
The smell of sunscreen.
Exploring the zoo and the park.
Summer is starting to rank right up there with fall.
***Today I am linking up over on Lisa Jo's blog for Five Minute Friday. You can join all the fun here.