We have until April 22nd to make a huge difference in the life of a little girl in Africa! I knew she was the one I wanted to advocate for as soon as I noticed her birthday – it's the same as Jackson's!
This month I am partnering with Compassion International to find this sweet girl a sponsor! Will it be you? We have 21 days to literally change her life!
Your sponsorship will ensure that Efua receives food, clean drinking water, medicine, and education. I wouldn't ask you to sponsor Efua if I didn't sponsor a child myself. We currently sponsor a little girl in Ethiopia through Holt International, but my family also sponsors a little boy in India.
On Orphan Sunday last year, I spoke at my parent's church and we had children available for sponsorship through Compassion International. I had prayed over each child, asking God that they would all be sponsored during our event. I was so discouraged when only two children received sponsors. Why hadn't more people stepped up?
Although I was discouraged (and felt like I had failed those kids), God was working…. A few weeks before Christmas my mom called. She wanted her family (my aunts, uncles, cousins, etc.) to do Christmas differently. Instead of exchanging gifts on Christmas Eve like we have done for years, she wanted everyone to pool their money and sponsor a child through Compassion International.
God whispered to my heart…."Jennifer, this is happening because you were a voice for these kids last November. Even if one gets sponsored, you have made a difference."
My mom sent a letter to her family and they loved the idea of helping a child living across the world have a better life. So last Christmas our family began sponsoring Bablu, a little boy who lives in India. I have seen God do amazing things in my mom through this sponsorship. Just last month she called to tell me she was shopping for Bablu's birthday! 🙂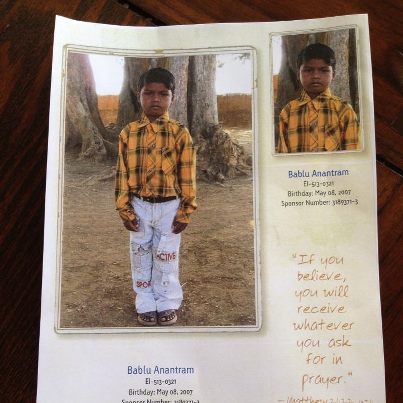 Maybe you can't afford to sponsor a child by yourself, but can you team up with your family or friends to make a difference in the life of a child? There's one little girl in Africa who needs YOU! That's all I'm asking – let's make a difference in the life of ONE! We have 21 days to make it happen!
If you would like to sponsor Efua, please visit http://my.compassionsunday.com/jenniferlinck1982
If you have a Facebook page or blog, would you consider sharing this? Even if you can't sponsor a child, you can be a voice for them!