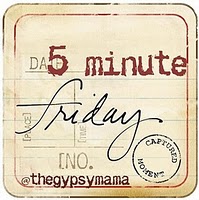 Those who hated Him thought Jesus was finally broken. He was beaten, a crown of thorns placed upon his head, He was hung on a cross, and nails pierced his hands and feet. He died an excruciating death. His enemies watched as He took his final breath. They watched Jesus, broken before their eyes.
The good news is brokenness is not the end of the story! Jesus didn't remain broken. This week, as I watched my Facebook feed and the news, I was reminded that in some way, we are all broken. We all sin. We are all unworthy of His great love. But because of His willingness to die on the cross, our sins are covered by His blood. We are forgiven. We no longer have to live broken lives.
This Good Friday, let's take a moment to remember the brokenness that came before the miracle of Easter. We are all broken, but Jesus offers everyone a miraculous redemption.
****Today I'm linking up with Lisa Jo Baker for Five Minute Friday. You can join in the fun here.