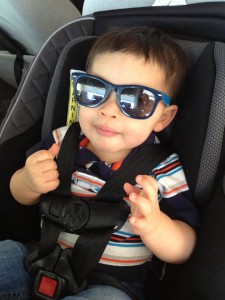 Don't let this cute face fool you! This boy has a temper! Especially when he doesn't want to sleep!
It's been a month since Jackson's been without a paci cold turkey. He was only using it at night and my mom broke him of the habit when she kept him after my surgery.
Since saying so long paci, it's been a struggle to get him to sleep at night. He does fine during his naps, but night time is different. We have rough nights and then we go a week or more with him sleeping all night long.
This week we haven't gotten much rest. Our Little Man has decided sleep is overrated. He either doesn't want to go to bed or he's up at the wee hours of the morning ready to play!
We've tried to rock him – but that's like wrestling a twenty pound bag of snakes. We've got up with, laid on the couch, and watched cartoons with him. And yes, we have let his temper flare and made him cry it out. And may I just say he has quite the temper. And he knows how to play the temper card!
My arms are literally sore from wrestling him at night. Part of me wants to give in and give him a paci, but it's been a month and I don't want to start that habit again. Because it will be hard to break him of it when the time come to do it in a few months.
So any suggestions? Why are nap times so easy and nighttime not? This mama could use a good night's rest 🙂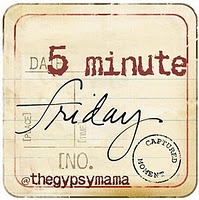 ****Today I am linking up over on Lisa Jo's blog for Five Minute Friday! You should join us here.