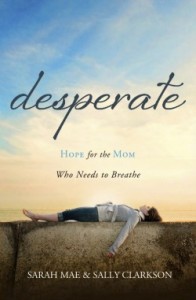 Desperation usually haunts me at night.
When Jackson isn't sleeping. When he's screaming and I'm so sleep deprived that I can't think straight. In those early morning hours, Satan whispiers, "You're an awful mother."
I start to feel like I want to throw in the towel. That I can't possibly handle another night of crying. Then the sun rises and I don't feel quite as desperate. Satan knows I am not as strong at night.
One thing I've learned in the midst of those desperate moments at 2 a.m. is that I'm selfish. Motherhood jerks the veil from your eyes and you're left realizing that life isn't about you anymore.
In their book Desperate: Hope for the Mom Who Needs to Breathe, authors Sarah Mae and Sally Clarkson say, "selfishness is the very root of sin. I didn't even know I was selfish until I had children."
Please tell me you can relate?
As I write, Jackson is finally taking a nap. Today's one of those days when my selfish desires have wanted to trump being a mommy. I had plans to write and work on a book chapter. Selfish me became a bit irritated when Jackson didn't cooperate with my plans. It's hard to write when your toddler is getting into everythiny and refusing to nap.
Being a mother gives God a chance to strip us of our selfish tendancies. Sally writes, "I began to see that the reason He gave me my children and the responsibility of their care is that it was a perfect way of confoming me to the image of Christ."
As mothers, God gives us a chance to:
Love more.
Extend Grace.
Choose Patience.
Be Kind.
Sit in the floor and play despite the dishes piled in the sink.
Ignore the sticky floors.
Cuddle instead of scream.
Choose joy in the midst of the mundane.
Say yes to our children when we really want to say no (of course I'm not talking about times when no is needed!)
To set aside our own selfish desires to live in the moment with our kids.
"So all of us who have had that veil removed can see and reflect the glory of the Lord. And the Lord–who is the Spirit–makes us more and more like him as we are changed into his glorious image." ~2 Corinthians 3:18