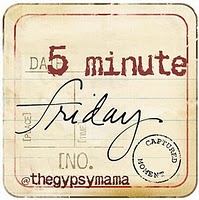 The words are displayed across my kitchen wall – "Home is where your story begins."
Words fitting for a writer.
Home was the house I grew up in on Inglewood. It was Kelli and Kendra next door and Amber and Aimee across the street. It was sticky lemonade stands and twirling my baton in the driveway. Home was Cabbage Patch dolls and a little girl's dreams of mommy-hood.
Thirty-one years later and I still consider that place home. I bust out singing the high school fight song when I see the city limit sign.
"We're from Stephenville, good ol' Stephenville, where the Yellow Jackets play!"
That little girl has grown up to become the mom she always longed to be. Sticky now describes her kitchen floors. So much has changed, but one thing remains – she can always go home.
****Today I am linking up with Lisa Jo for Five Minute Fridays! You can join me here.