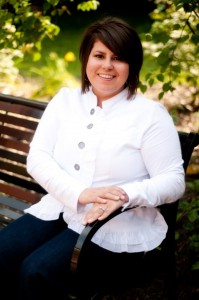 Today I have a special guest post from another SheSpeaks friend! I thought it would be fitting for her to guest post on my blog because she has faced something so many adoptive mamas have faced – the loss of a biological child through miscarriage, stillbirth, or infant loss.
Teske Drake is a mommy to three babies in heaven, mother to two on earth, and wife to her one and only, Justin.  Inspired by her own loss experiences, Teske serves as co-founder and President of Mommies with Hope, a biblically-based support group ministry for women who have experienced the loss of a child through miscarriage, stillbirth, or infant loss. Teske is the author of Hope for Today, Promises for Tomorrow: Finding Light Beyond the Shadow of Miscarriage or Infant Loss (Kregel, 2012) and she leads women to live in hope at www.mommieswithhope.com.
Today she is sharing her heart with you and also giving away a copy of her book! YAY! To enter for a chance to win, just leave a comment on this post. I will select and announce a winner tomorrow.
***********************************************************************************************
There was a time when the desire to adopt a child was heavy on our hearts.  I'd completed hours of research, scouted out agencies and certified adoption investigators for our home study, and the list goes on.  It seemed to be a part of the plan.  God revealed to us, rather quickly, however, that He was preparing us for something else.
Let me clue you in to some of the background…
We already had two biological children at the time.  We were also grieving deeply.  I had just experienced a second trimester miscarriage of our little girl; precious Riyah Mae.  In fact, Riyah was our third baby in heaven.  Just months prior, we miscarried Jesse at six weeks along.  Three years before that, our first daughter, Chloe Marie, died shortly after birth.  It had been quite a journey up to this point.  With a strong desire to grow our family, we were heartbroken by multiple losses and derailed plans.
It's been just over three years since that time of desiring to adopt.  Though we haven't pursued adoption any further, I see evidences of God's purpose in that season all around.  Namely, we became the guardians of my teenage niece, who graduated high school this year.  It was quite unexpected and certainly not a part of our plan.  Yet God had been preparing our hearts for this and we were ready when the call to care for her came.  Also, I was able to share all of the research with three separate friends who began to sense God calling their families to adopt.  Since that time, two of these three friends have welcomed children into their homes through adoption and the other holds on to hope in the wait.
Childbearing, child rearing, adoption, loss; oh, it's a roller coaster of a ride.  Momentous mountaintop experiences, followed by the deepest valley of grief at times.  Yet there is hope when it hurts.  Psalm 31:24 says, "Be strong and take heart, all you who hope in the Lord."  Hope in the Lord.  Always.  He is the giver of all hope and the reason we can hope.  Hebrews 10:23 encourages us to, "…hold unswervingly to the hope we profess, for He who promised is faithful."  Yes, He is!
And that's precisely what I've been learning on this roller coaster ride of our growing family.  God is the ultimate promise keeper; He is faithful.  We may not know exactly how things will turn out, but we can trust in the One who knows all things. We can trust in Who He is and the promises He freely offers; promises that bring life to the soul and a serve as a constant companion for the journey.  And yes, there is hope, even when it hurts.
****Leave a comment and be entered to win a copy of Teske's book!