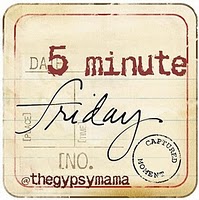 Bare.
Exposed.
Many times when I push the publish button on a blog post I've written, I feel as if I'm allowing myself to stand naked in front of my readers.
I always want to be real. I want to share the struggles and the joys. I don't ever want to pretend life is easy and I have it all together – I. do. not.
God is teaching me that the more I'm willing to expose myself (my heart), the more He can use me for His glory. With each honest (and sometimes painful word) I write, He is healing the deep places in my heart that are in desperate need of His touch.
Sharing the burdens, the sorrows, the joys – it's freeing. Baring myself (through my words) for all to see, has been (and still is) a sort of healing process for me.
****Today I'm linking up over at Lisa Jo's blog for Five Minute Friday! You should join us! One word, Five Minutes, Go!