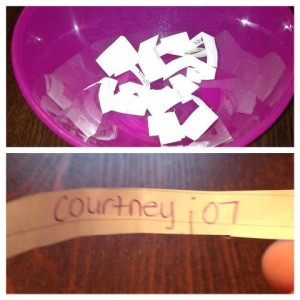 I drew the winner for the give away the old-fashioned way. I wrote the names on slips of paper, folded them up, threw them in a bowl, closed my eyes, and picked one tiny slip of paper. 🙂
The winner of the incredible artwork by Ashley IS……
Blog Read Courtney!
I couldn't be more excited for her to receive the prize. Her comment on yesterday's post made me smile from ear to ear. It brought back amazing memories of the excitement I felt when God began leading me towards adoption.
She writes, "I'm not sure what God is doing in my heart regarding adoption, but I pray that He will show me and guide me and my husband in his perfect timing. Thanks so much for the post."
Courtney, hang on! God will take you on the ride of a lifetime if you will obey and follow that nudge you feel in your heart! I am so excited for you and the journey that He has planned for your family. Adoption is the greatest thing I have ever done! 🙂
Thank you to everyone who commented yesterday and entered to win the artwork. A big thank you to Ashley for sharing her heart about praying through adoption and creating a beautiful piece to give away!