There's something about slipping on a pair of cowgirl boots, the aroma of hay and cow poop in the air, and watching a cowboy ride for eight seconds that makes a girl feel at home. I may live in Oklahoma, in the city; but I will always be a Texas girl at heart. 🙂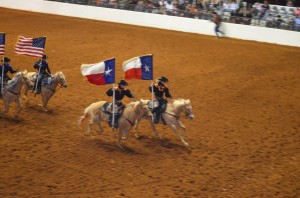 This weekend we went to the Lone Star State for our annual family outing – a trip to the Fort Worth Stock Show and Rodeo – the oldest and longest running rodeo/stock show in the world.
It was Jackson's first trip and I had my heart set on getting him a pair of cowboy boots to wear for the very important occasion. I was so surprised when he received a gorgeous pair of boots for Christmas. There was just one little problem. He has fat little feet and getting a boot on is impossible! Believe me, I tried and tried. I pushed and shoved and ended up with a mad little boy. No boots for Jackson this year 🙁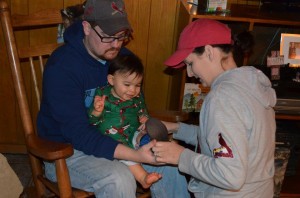 But he did get his first taste of corn dog and having a corn dog at the rodeo is part of our tradition; at least it usually is for me. This year the corn dogs and red velvet funnel cakes tempted me, but thanks to the gallbladder attack I had the night before I had to resist the yummy, fried, goodness.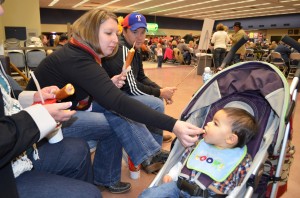 Jackson loved looking at Elsie, the Borden cow!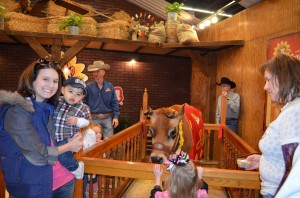 After some corn dog and a visit with Elsie, it was time for Jackson's first rodeo. As soon as the music began to play and the horses raced out into the arena, Jackson began kicking his feet wildly. He. loved. it. We were worried the fireworks during the National Anthem would scare him, but he gazed at all that was happening with wonder on his face.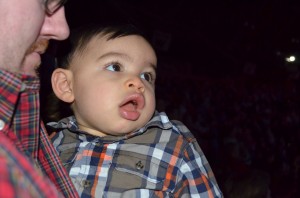 After some bare back riding, the calf scramble, and roping, Jackson was exhausted. He had to take a little nap to recharge…..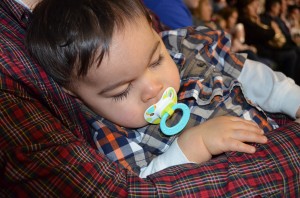 The only downside to our family tradition was that Jackson's Pop was sick and didn't get to have fun with us. Next year! Jackson will have some boots and will probably be eating an entire corn dog himself. He might even ride a stick horse all over the stock show yelling YeeHaw! After all, he makes a pretty cute cowboy!