Last week I wrote about the need to cut myself some slack. If you missed it, you can read more about it here. So many of you chimed in and said that you also could stand to ease up on yourselves. But Why is it so hard for us to do?
As women, wives, and mommy's, it's just not in our nature to give ourselves a break. The laundry basket is overflowing, you need to fix dinner again because for some reason we have to eat every night, and just when you think you're going to slip into a hot bath and read that book you've been craving, the baby starts to scream. ( I just jinxed myself typing those words. I sat down to blog. Jackson woke up crying.)
We think we have to do everything and do it perfectly. At least that's what I expect from myself. This weekend was no different. I had a to-do list a mile long, but something kept me from checking the items off my list – back-to-back, sunny, gorgeous, 65 degree days – in January, in Oklahoma.
So I remembered what I wrote last week about needing to cut myself some slack and I did! I soaked up the sunshine this weekend and enjoyed my little family. We spent Saturday at the zoo and then John and I enjoyed a much needed date night.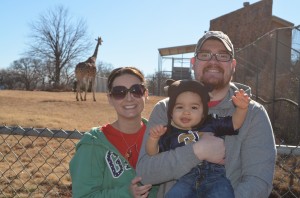 Here's our little family at the zoo! I can never get enough of the giraffes. They are my absolute favorite zoo animal. You can feed the giraffes at our zoo, so Jackson and I got a close up look. I love the photos of he and I together.
Go ahead and laugh…my facial expressions are pretty funny! 🙂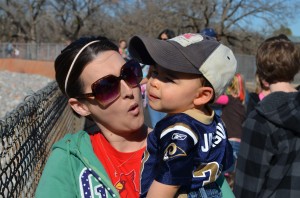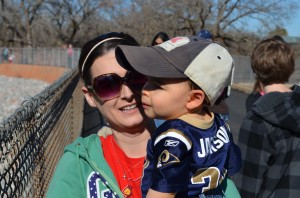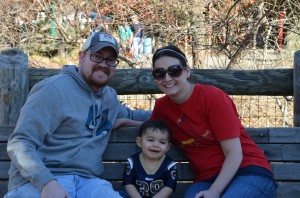 Sunday we celebrated a special girl's 1st Birthday. Lyla was born just a month after Jackson. Her mom and I met through the adoption process and prayed our babies home! Is she not the most precious thing EVER??
So the weekend has come to an end and my hamper is still overflowing with laundry, there are toys scattered all across the living room floor, and I didn't bake those homemade red velvet cupcakes like I said I would – but….I enjoyed the moments of two beautiful days. I made memories with my family. I cut myself some slack.
So what will you do this week to cut yourself some slack? What can you set aside so that you make time for something more important?