This weekend was about the little things in life that are really big things to a mommy.
Working on Jackson's 1st year scrapbook and remembering all the moments (good and bad) from the past year. How he hated being naked and taking baths the first few months. Funny, now he loves bath time. As soon as he hears the water he makes a mad dash for the bathroom. He's a professional splasher.
Naps. 🙂
The funny faces of a little guy who loves popsicle. I'm sure it felt good on his gums since he's in the process of getting three teeth.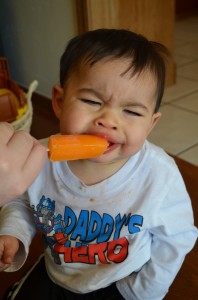 A daddy and son kicked back in their recliners on a Saturday morning.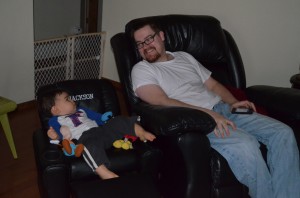 And the best moment of this weekend….Jackson finally decided he would talk! Our pediatrician has been concerned that he wasn't making single syllable sounds. I've tried not to worry, but it's hard when your son isn't making noise but his little friends are chattering away. Well, our Little Man decided on Saturday that he was tired of being quiet. He chattered and chattered and chattered.
I got to hear mama so many times and it just gets better each time he says it. He's also a big fan of saying bye bye and ba ba ba (but only when he wants to!). We are still working on dada.
What special memories did you make this weekend? Remember to cherish the little moments. They really are the best….