Is it just me or am I the only one who likes to make to-do lists and cross off each task once it's complete?
Maybe I'm a little crazy, but a clean and organized house, means I am in a much better mood. I can't. handle. clutter. Oh, you too??
I have this fabulous friend who is just like me and she's releasing her first e-book today, "Getting It Together: Your Guide to Setting Up a Home Management System that Works."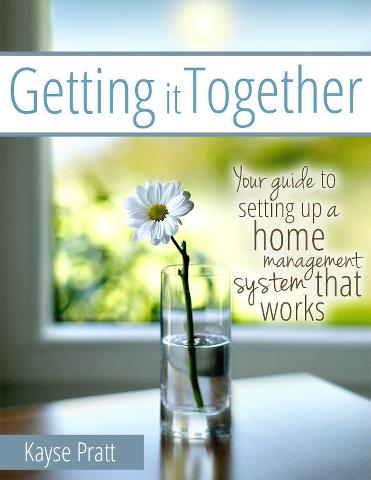 I had the privilege of reading it before it was released and it made me realize that it's more than Jesus, writing, and mommy-hood that bonds Kayse and I as friends. Our friendship goes deeper than that – it's about making lists and decorating your folders and dividers with cute scrapbook paper. A girl after my own heart.
But seriously….her new book is super! Her home management system could help even the most unorganized chick get her stuff together. 🙂
I had good intentions of putting some of Kayse's home management plan to good use before publishing this post, but then my son got sick with RSV, I got the flu and bronchitis (even though I got my flu shot) and then we began traveling for the holidays.
Beginning the first week of January, I will put those pretty, color-coordinated printables to good use. I love making lists and staying organized and Kayse includes 30 printables that will help me take my organization to the next level (all while being cute and colorful).
The blog schedule will help me better plan what I will write about each week, which will hopefully help me write more consistently. I am super excited to put the baby-sitter printable to use – that means more date nights for John and I, which means a happy husband. 🙂 Now to find a reliable, regular, baby-sitter.
If you are looking for a way to make 2013 a tad bit more organized and a little more colorful, you need to check out "Getting It Together: Your Guide to Setting Up a Home Management System that Works."
Getting your hands on a copy is easy as pie. For a free copy, all you have to do is visit Kayse's blog and sign up for her newsletter. If you don't want to sign up for the newsletter (why wouldn't you?? Kayse will bless your socks off with her encouragement!) you can purchase a copy of the book on her blog for just $3.99.
To find out more about this awesome book and Kayse, visit www.kaysepratt.com