The theme song for my house this Christmas is not "O Christmas Tree, O Christmas Tree." The theme is more, "The stockings were hung by the chimney with care…"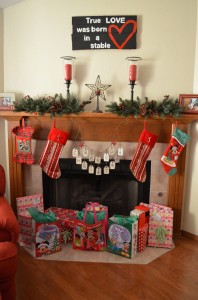 I was adamant that there wasn't going to be a Christmas tree in Jackson's first birthday photos. The plan was to set it up after his party. But RSV struck and we had about 5 sleepless nights and I just. don't. have. the. energy. to put the tree up this year – especially since we are leaving next week to travel for a week to visit our families for Christmas.
So my decorations are a bit sparse this year. Our Christmas tree consists of Jackson's Christmas tree in his room. The nativity is set up and our presents are under the stockings, which have been hung by the chimney with care. 🙂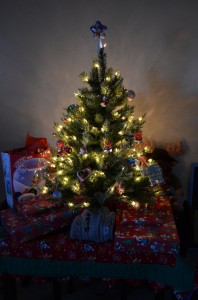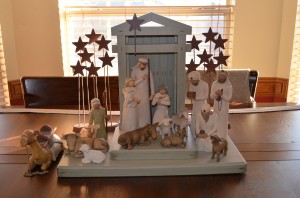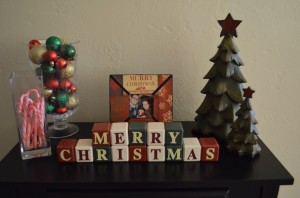 Since we've been quarantined to the house, I haven't been able to Light 'Em Up as much as I would like. I'm trying to stay positive and hope that next week will be full of Christmas baking and spreading good cheer – since I'm in bed sick today!
Have you ever had a Christmas season that didn't go exactly as you had planned? Have you ever not set up a Christmas tree?
I know I will look back on this Christmas season and there will still be great memories made, despite the sickness and the lack of a Christmas tree. The one perk is that I'm not fighting crazy shoppers this year. 🙂