The last four days have been a whirlwind! My family came to town for Thanksgiving and John invited several of his students to our house who needed a place to go for Thanksgiving. We had a huge spread of food!
About 8:00 on Thanksgiving night, my mom, sister, and I decided to be crazy and go a few places to do a little Christmas shopping. We were going to go to ToysRUs but after seeing the line we decided we had no desire to wait. We headed to Target and had a lot more luck. Then we hit up the Disney store and I got amazing deals on a few Christmas presents for Jackson and his friend Harmonee.
I broke my rule and put up some of the Christmas decorations. We are waiting to put the Christmas tree up until after Jackson's birthday party, but the mantel and entry hall are decorated and my nativity set is up.
Speaking of nativity sets….three years ago I bought the Little People nativity because I knew one day I would have a child. Last year Jackson was too small to play with it, but this year I got it out for him and he immediately put baby Jesus in his mouth….he totally gets the true meaning of Christmas 🙂
Here are a few photos from our Thanksgiving…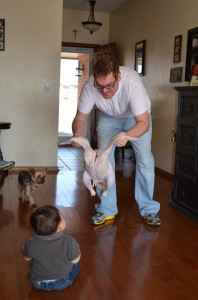 John's family has a tradition of flying the Thanksgiving turkey before it goes into the fryer. Jackson thought it was hilarious!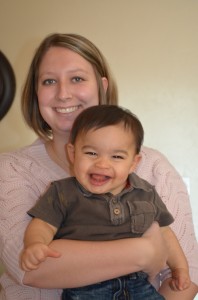 Jackson is going through a phase where he smiles the biggest smile, scrunches up his nose and shows his teeth. Here he is with his Auntie M.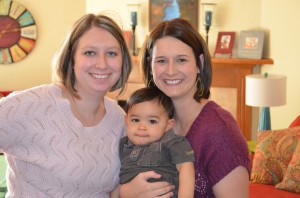 My sister and I with Jackson.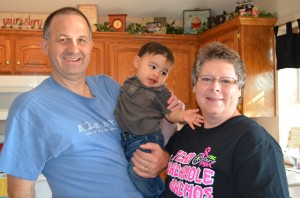 Jackson with his Pop and Lolli who are just CRAZY about him!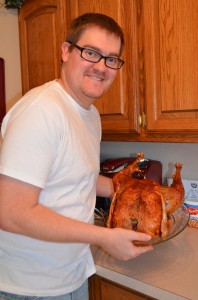 John made an outstanding turkey!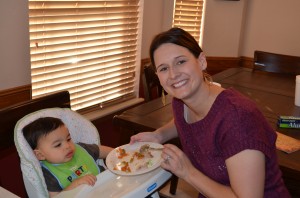 Jackson got to enjoy a little feast of his own. He had turkey, mashed and sweet potatoes, green beans, green salad and the strawberry part of strawberry pretzel salad. He loved every bite!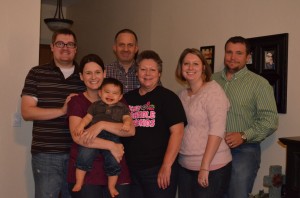 Here's our family Thanksgiving Day!