Lately I've felt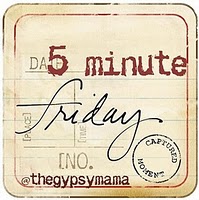 like running away. But I stay.
Life has seemed overwhelming. I'm not myself. I've had a sick baby. I'm facing stuff that just needs to be dealt with. I want to run, but I stay.
I stay because I know that my circumstances are just that – circumstances. I will get through all of this somehow. I stay because God promises to never leave me or forsake me. He will not run. He will stay.
I will stay right here, in the midst of the uncomfortable, the discipline, the loneliness, this desert of sorts – believing that in the end I will be a better person. That God is working to produce something in me that reflects a little more of Him. I will wrestle with Him over all the stuff, knowing that He has a plan even though I can't see what it is.
Join us today over at Lisa-Jo's blog for Five Minute Friday.