We are one, very, short month away from celebrating Jackson's 1st Birthday! I can't even believe it! I love watching Jackson learn new things.There's so many facial expressions and things he's doing that I never want to forget.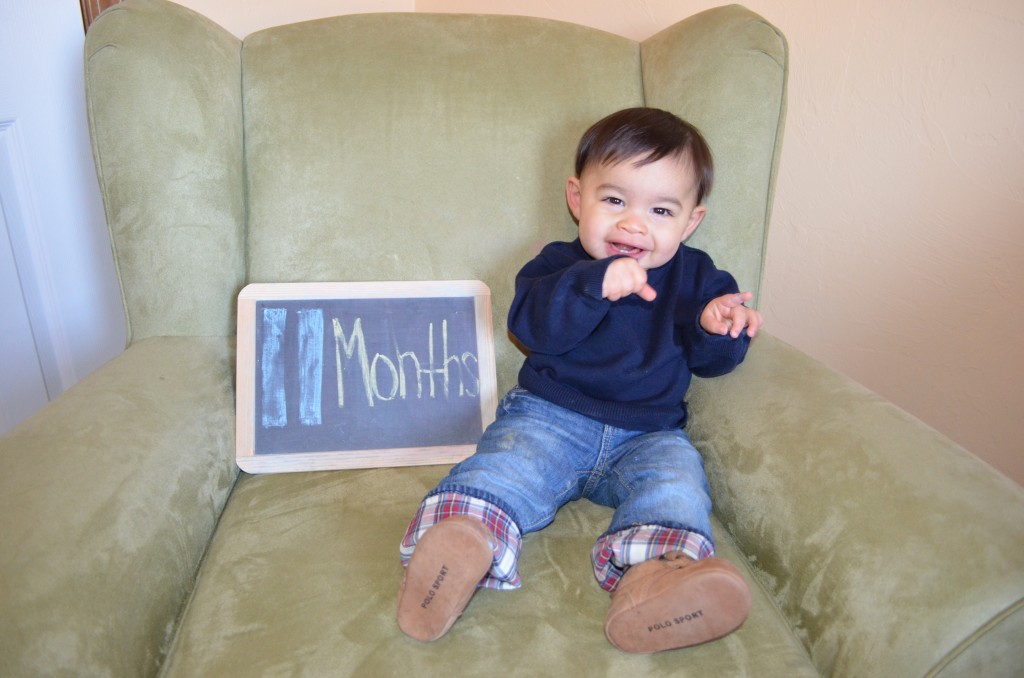 He's had a pretty rough week. He came down with a visus and ran fever for three days and has just felt miserable. On top of that, he's trying to get several teeth. It's been a rough (sleepless) few nights/days for Jackson and his parents 🙂
Our photo session this morning didn't go as well as this mommy would have liked. I need to get over my perfection…he's 11-months-old and hates to sit still. I have to remind myself that a photo isn't really that big of a deal. Becoming a mommy makes you realize how imperfect you are!!!
Here's a few photos from our session. At one point he was NOT happy! 🙂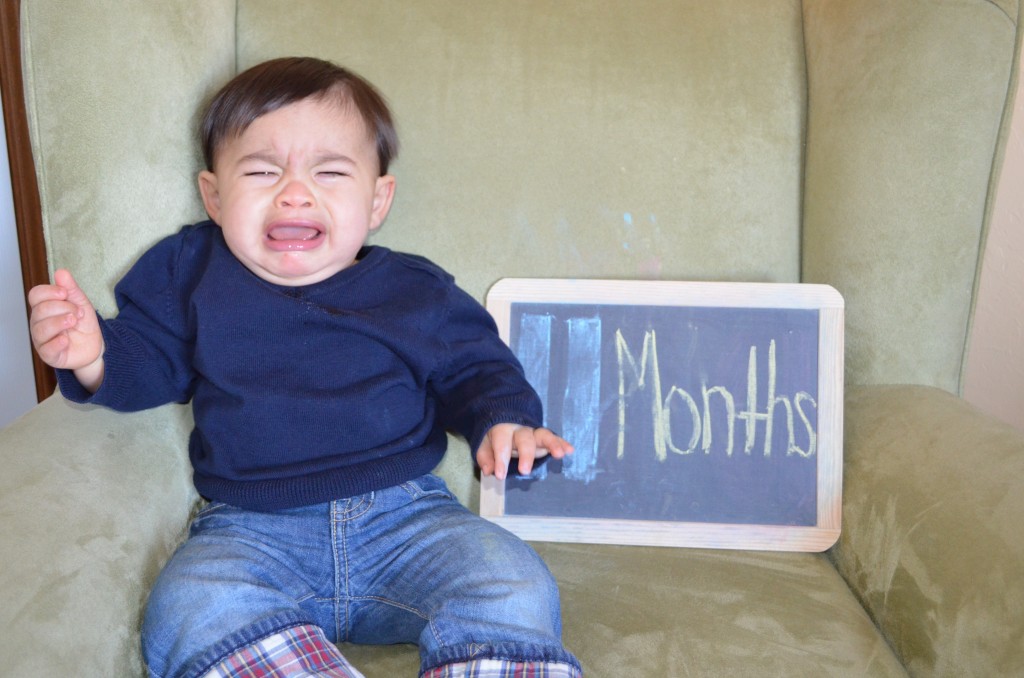 Then he decided to hold the chalkboard….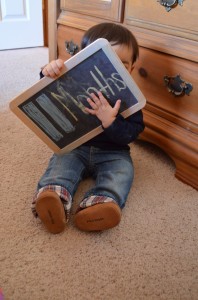 Here's a few of the things that made this past month fun!
When Jackson hears me start his bath water, he hauls it to the bathroom. He LOVES bath time. Loves to stick his head under the water coming out of the faucet. Loves to pull up the drain so the water dissapears. Loves to splash.
He likes to play tug of war with Story (his dog). He grabs one end of her rope, Story grabs the other and the tugging begins. Jackson gets so tickled by this. Story is so good with him. She takes every tail pull and boy-like pet like a champ.
Jackson pulled up for the first time IN the bath tub! Probably not the safest place to pull up, but that's where it happened.
Jackson had his first trip to the ER at 3 a.m. Major double ear infection! Little Man was in a lot of pain.
Jackson loves to clap. I walked into the living room the other day and he was clapping and smiling from ear to ear to the music on the Disney channel.
I walked into Jackson's room one morning to find him sitting up in bed with his music on. 🙂
Jackson got to enjoy one piece of his halloween candy – a yummy sucker. He was a blue, sticky, mess, but he LOVED every minute of it.
Jackson's first Halloween was lots of fun! He was the cutest Pooh Bear around and did lots of trick-or-treating
Jackson went with Mommy to vote in the 2012 presidential elections.
Jackson WILL NOT keep his socks on and shoes are a battle. It's hard to find shoes to fit his little, fat, feet.
Any day now Jackson's top two teeth will be popping through. It seems like it's taking them much longer than the bottom two.