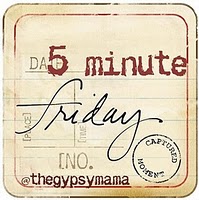 It's October, so the first thing that popped into my mind when I saw the topic for Five Minute Friday was – Race for a Cure.
October is breast cancer awareness month. Last October my mom was diagnosed with breast cancer. This October she celebrated the victory of kicking cancer's butt!
In regards to her cancer, I feel like this verse is for my mom….
"She fought the good fight, she finished the race, she kept the faith." (2 Timothy 4:7)
So many women (and men) are diagnosed with breast cancer each year. We must pray that a cure is found soon – not just for breast cancer, but for all cancer!