And I pray that you, being rooted and established in love, 18 may have power, together with all the Lord's holy people, to grasp how wide and long and high and deep is the love of Christ. (Ephesians 3:17-18)
I think I'm learning to grasp just how much God loves me through the love I have for Jackson! My heart delights in watching him do the smallest things and I'm overcome with a love that I never knew before him. The sight of him picking up puffs with his tiny fingers and putting them in his mouth has literally brought tears to my eyes.
The site of his long, long, lashes and kissable lips, are a reminder of the glorious details of a creative God.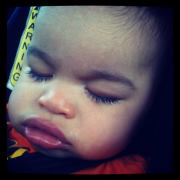 And in moments like that, I realize my love for Jackson is just a glimpse of how God feels about me and all of His children. Can you even grasp that? He loves us beyond what we can comprehend, he cares about the tiniest of details in our lives. Let that sink in.
Today I pray that you will grasp this love that God has for you. That it will overwhelm you and change you.