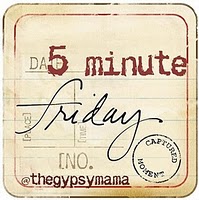 Graceful: Having or showing grace or elegance.
Do I extend grace enough?
Hebrews 12:15 says, "See to it that no one misses the grace of God and that no bitter root grows up to cause trouble and defile many."
Too often I think I miss out on extending grace, allowing others to see God through me, because I am hurt or bitter over a situation. What if the grace I extend is the only glimpse of God they ever see?
Grace is freely given to me each and every day by my wonderful Savior. May I strive to give grace to those around me and not allow bitterness or hurt to take root deep in my soul.
***This was my first Five Minute Friday and I have a confession to make….it took me a little longer than 5 minutes. Please extend some grace 🙂