For about a week now, when I wake up each morning I have this feeling. It comes around every year about this time and there really are no words to describe it. It's the feeling that Fall is right around the corner!
And Fall is my FAVORITE time of year! I love the crisp air, college (OU) football on TV on a Saturday afternoon, jeans and sweaters, trips to the pumpkin patch, crock pot chicken chili, the vibrant leaves falling slowly from the trees, getting out my fall decorations and lighting a pumpkin spice candle. My list could go on and on and on.
Summer is drawing to a close and that's okay by me. Goodbye scorching temperatures and high electric bills! Yesterday I decided to bake up one last summer treat. I couldn't resist these cookies on Pinterest. (my cookies do not look as pretty as the Pinterest photo, but they were pretty darn tasty!)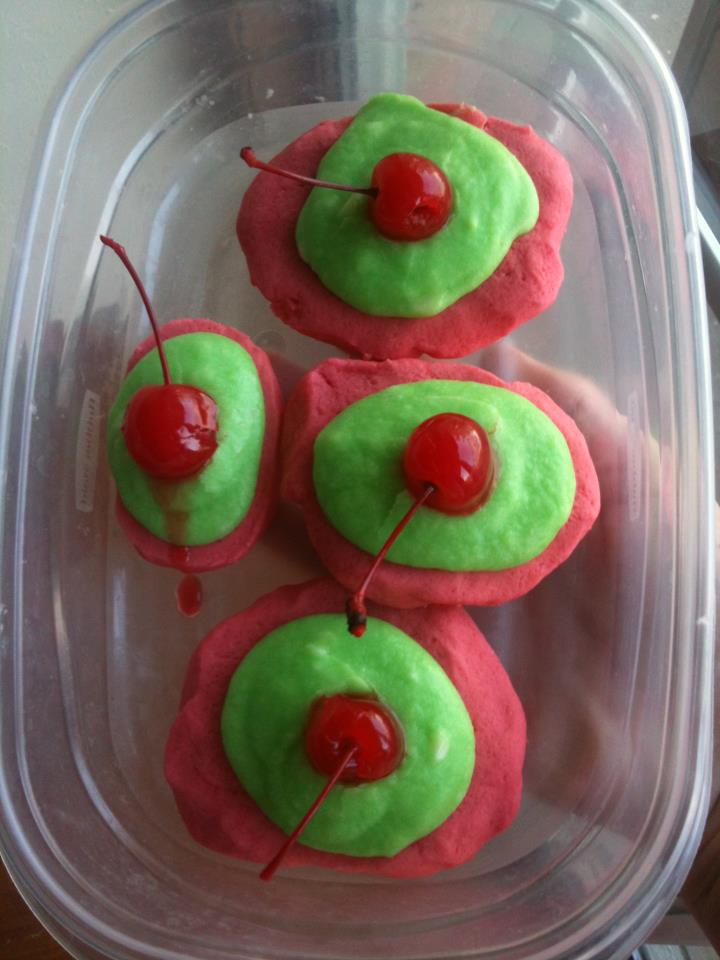 I thought I would share the recipe today, in case any one wants to bake up a batch for one last summery sweet treat! 🙂 I hope you enjoy!
Cherry Limeade Sugar Cookies
 3/4 cup unsalted butter softened
1/2 cup sugar
1/2 cup powdered sugar
2 eggs
1 teaspoon vanilla
1 pack cherry Kool-aid ( unsweetened )
2 1/2 cups flour
1 teaspoon baking powder
1/2 teaspoon salt
In stand mixer combine butter and sugars.
Beat until light and fluffy.
Add kool-aid, vanilla and eggs.
Mix well then add flour, baking powder and salt
Mix until all combined.
Divide dough into two 8 x 2 inch logs.
Wrap in plastic and chill for at least one hour.
Preheat oven to 350 F
Line cookie sheet with parchment
Remove cookie logs from refrigerator.
Cut into 1/2 inch slices.
Bake for 10 to 12 minutes
Remove from oven and cool on cookie rack.
1/2 cup unsalted butter
2 1/2 cups icing sugar
1/2 pack lime Kool-aid
3-4 tablespoon milk
maraschino cherries with stems
 Beat butter, icing sugar, kool-aid and milk
together until frosting is fluffy. Adding more
milk if needed.
Frost cooled cookies using a piping bag or just spread
frosting on top of cookies. Complete with cherries on top
of each cookie